KNOWN, LOVED, AND CALLED TO EXCELLENCE
Why Trinity Catholic Academy?
A strong start. Future success. As a Trinity Catholic Academy (TCA) student, your child will be:
Known for their great potential
Loved with care and attention
Called to excellence
A TCA student develops a mindset of success at an early age from preschool to grade 8. We offer outstanding Catholic education in a diverse, urban community.
How it's made possible
With the help of the Campaign for Catholic Schools (CCS), we set a new standard for urban Catholic education. We complement strong academics with strong teachers. This is all supported by a diverse network of local communities.
Over the past twelve years, our students have made us proud. They have matriculated to the finest high schools and graduated from college. They understand our call to excellence and sincere desire for us to help them realize their full potential, their calling from God to step forth and make a difference for others in the world.
Academics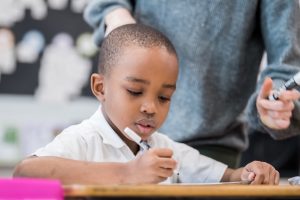 At TCA, we help students create strong academic skill sets as well as a mindset for success at an early age.
Our Early Childhood Program for students ages 3-5 begins with a comprehensive early literacy program; pre-kindergarten curriculum includes literature, writing, math, science, and social science; and a full-day Kindergarten program emphasizes math and language arts.
Curriculum for Grades 1-3 incorporates hands-on learning for students with quality instruction in a supportive and challenging environment.
Students in Grades 4-8 participate in cross curricular instructions, such as STEM and STREAM (Science, Technology, Religion, Engineering, Arts and Mathematics), a fusion of multiple disciplines that allows students to explore how these different disciplines interrelate.
All students receive instruction in music, art, physical education, library, and technology.
Teachers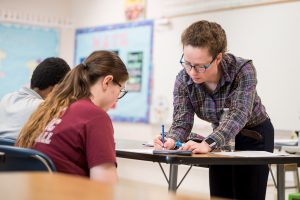 Our trained and supportive teachers are dedicated to your child's academic and personal growth.
Our small class sizes ensure that teachers can provide personal attention to each student. Teachers use research-based best practices to engage students through lively discussion, problem-solving, and active participation.
Full-time paraprofessionals support teachers by giving specialized or concentrated assistance to students in preschool through kindergarten.
Our teaching staff is supported by the Urban Catholic Teachers Corps (UTCT) and the City Connects Program at Boston College. In addition, Stonehill College provides our staff with professional development and curriculum development.
Community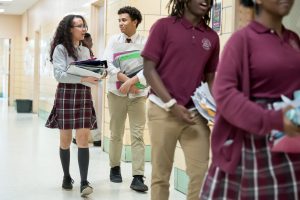 Your child will be surrounded by an engaged community of teachers, students, parents, volunteers, and alumni working together to help your child grow and thrive.
We are fortunate to enjoy the support of organizations such as Stonehill College, Regis College, Boston College, Cardinal Spellman, the Campaign for Catholic Schools, local parishes, and many other organizations to help make Trinity Catholic Academy a premier educational community for you and your child.
The programs, resources, and funding provided by these organizations help to ensure we are best prepared to guide your child's academic, spiritual, and moral growth.
Faith & Values
At all grade levels, students develop knowledge and values of the Catholic faith along with a capacity for lifelong learning, spiritual growth, and compassionate social engagement.
We work each day to provide our students an opportunity to know our loving God as well as become Christian leaders for the world.
Every school day begins and ends with school prayer.
Our teachers and staff do not just teach but are role models of Christian values and living.
Service and giving back to the community is ingrained in our curriculum.
What your student receives
I am proud to say that TCA gave me that sense of belonging, the roadmap on how to grow up, to experience and be part of a community, and how to find my passion and look inwardly to find my inner voice and confidence – to see for myself, the person that God wants me to be.
– Ariana Rodrigues | TCA, Cardinal Spellman, and current bio-chemistry major at Stonehill College
Results
Our call to excellence produces men and women of great impact. With TCA, your child will become the next generation of influencers, leaders, and innovators.
Results
Our call to excellence produces men and women of great impact. With TCA, your child will become the next generation of influencers, leaders, and innovators.